Nov 01, 2022
Launching Kneron's Next-Generation Chip KLM5S3, Pursuing Excellence in Edge-AI Computing
As the digital transformation of urban development continues to accelerate, edge-application devices are becoming more and more vertically integrated.Kneron has been keeping up with this industry trend to further develop the Edge-AI market with our strong in-house research capabilities. We are now launching the next-generation KLM5S3 chip, especially geared for the fast growing Edge-AI market, for realizing the vision of
Ubiquitous Artificial Intelligence
.
Unprecedented Performance for Diverse Edge-AI Applications
The just released, next-generation KLM5S3 chip comes with many innovations and upgrades.
The KLM5S3 is based on the ARM® Cortex™ A5 CPU and is implemented with 28nm CMOS process. It outperforms the competition in both performance and energy consumption and can deliver 0.5eTOPS @int8 /1eTOPS@int4 in its NPU, in order to support its reconfigurable MAC to achieve superior computing efficiency in terms of FPS (Frame/sec) per TOPS (Tera-Operations/sec).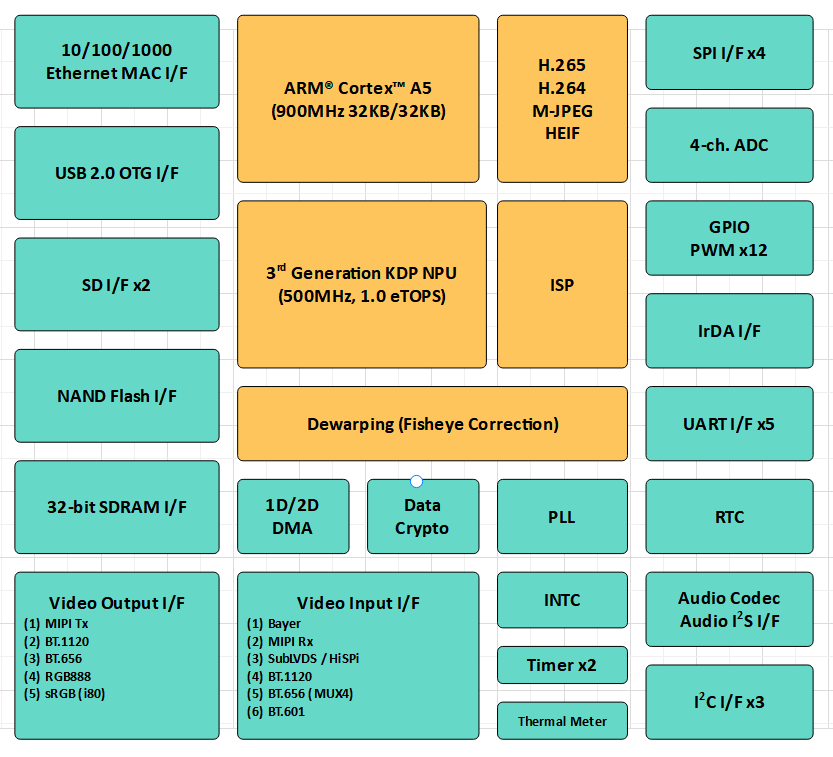 The KLMS53 not only carries on the impeccable ISP performance of previous generations, but also supports up to 5M@30FPS, with 120db wide dynamic range, and can handle star-level low-light, electronic image stabilization with hardware-based panoramic fisheye correction.
Video encoding H.265 (HEVC) and H.264 support maximum 5M@30FPS high-performance intelligent encoding, MJPEG 60MPS, as well as multi-channel main and sub-bit rate output.
In terms of image processing, it offers 7,936 x 7,936 sensor resolution, 120dB multi-shutter frame fusion, and advanced 2D/3D noise reduction function to ensure image details for capturing more exquisite and realistic high-quality images.
The powerful reconfigurable NPU has been further improved, and supports frameworks such as Cafe, Tensorflow, Tensorflowlite, Pytorch, Keras, ONNX, etc., which can be widely used in urban security, intelligent driving, edge equipment, various type of wide-angle scenes and numerous other applications.
Improved Solutions for Complex Scenarios
Industries and businesses are using AI to increase automation for improved process flow, efficiency, and safety. The new KLM5S3 chip can be exploited under multiple complex scenarios.
In terms of HDR in security applications
, the solution equipped with advanced KLM5S3 can deliver Clear HDR function and facilitate dual-channel HDR processing. The image sensor will automatically set higher gain for captured image in dark places and lower gain in bright places, and acquires up to 3 images to KLM5S for image processing. Even high-speed moving objects can thus be captured without artifacts and chromatic aberration.
The electronic image stabilization of the edge equipment
is realized through KLM5S3's high-performance ISP and six-axis gyroscope algorithms. At the same time, the large wide-angle distortion correction function is also embedded in the hardware, which can achieve a maximum FOV of 160. This is now widely employed in law enforcement for cars and motorcycles. It can effectively correct dynamic images and greatly improve the viewing experience.
LED flicker suppression:
Traditional cameras typically suffer from image flickering when photographing LED traffic lights, which is caused by the sensor exposure time spanning over LED AC bright/dark drive cycles. When such flickering is seen on displays, it can easily cause misjudgment and danger for self-driving AI systems. The KENERY LED flicker suppression solution used by the KLM5S AI chip with a car-grade camera can effectively suppress the flicker of LED lights, and convey clear traffic light images and videos to the NPU for making the right decision and reduce driving risks for an improved driving experience.
1:1 Sensor and fisheye cameras:
By using Kneron's collaborators' AI image sensor, with 1:1 length/width aspect ratio and the effective sensor target surface, KLM5S3's hardware fisheye calibration tool can deliver 2-4 lens equivalent image effects by just using one lens.
Kneron's pursuit of excellence in advancing Edge-AI computing
The launch of the next-generation KLM5S3 chip further enriches Kneron's product line.Faced with the challenges of a rapidly changing industry, Kneron's products continue advancing to meet the market's diverse needs.Kneron's groundbreaking new chip demonstrates its full commitment to both customers and partners in further advancing its Edge-AI technology, and bringing the benefits of Edge-AI to industries and households worldwide.