Nov 04, 2021
Kneron Launches KL530— Next Generation Auto-Grade AI Chip, Bringing L1 and L2 Autonomous Driving to Any Vehicle
KL530 integrates Kneron's next generation NPU with a state of the art image-sensing processor for increased clarity at low power
KL530 is the first to integrate ISPs and revolutionary Vision Transformer models
The versatile new chip can be used to power L1 and L2 applications in autonomous vehicles (AVs), either directly built in to vehicles or through aftermarket solutions
KL530 is embedded with ultra low power CPU, and is its most energy efficient processor to date.KL530 boasts up to 2x more TOPS/watt over KL520, already one of the most energy efficient edge AI chips on the market, and up to 10x the performance of KL520 in key AI models such as Mobilenet and Resnet. It is a staggering improvement across the board. This was achieved through the addition of INT4 data support, reducing processing time by 66% and doubling video framerate, as well as reducing boot time by 33% and increasing the number of objects that can be detected from 3 to 8 in the same cycle.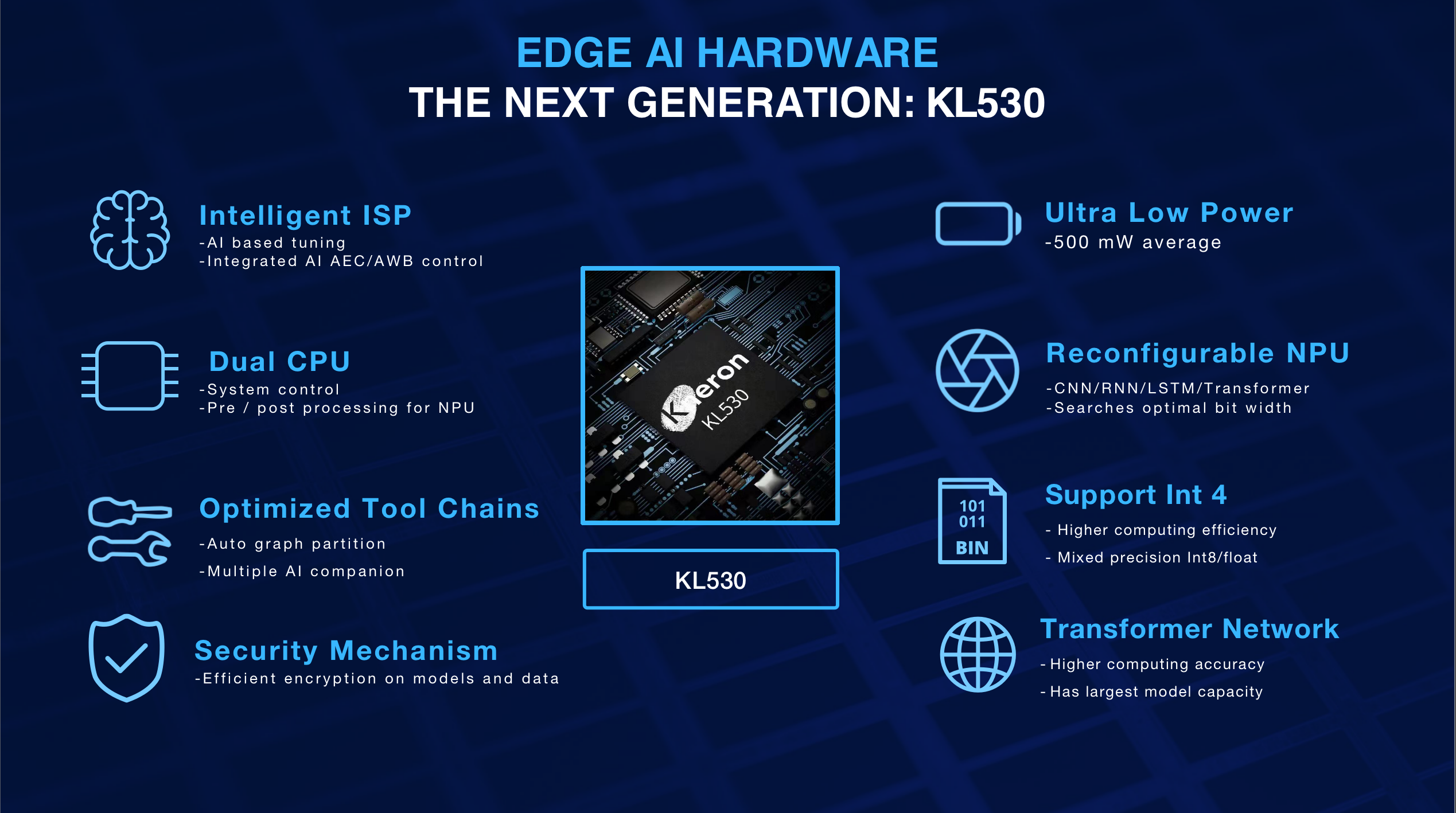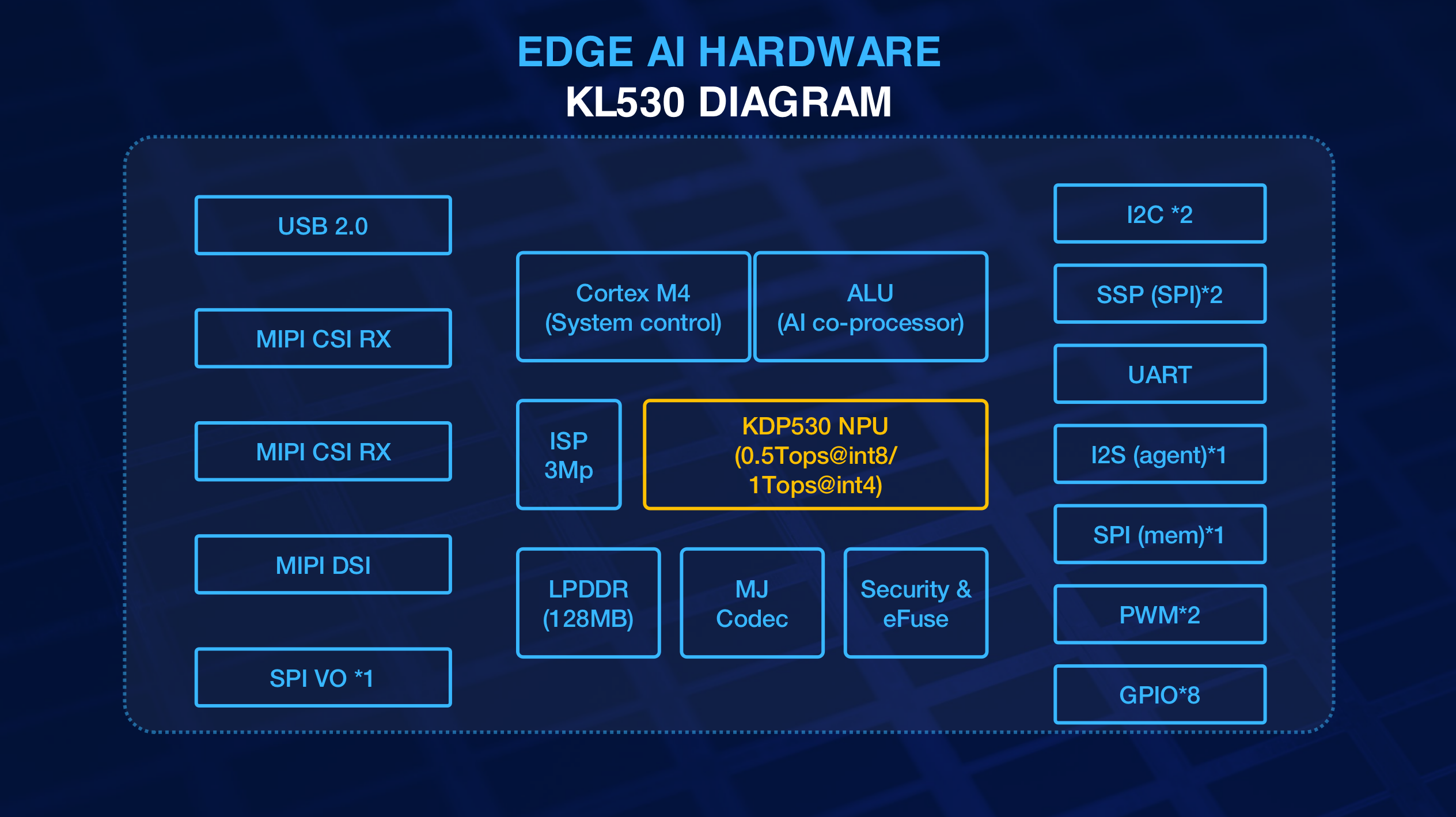 KL530 is the first AI chip on the market to support Vision Transformer AI models, as opposed to the traditional Convolutional Neural Network (CNN) models. Transformers are up to 30% more accurate than CNN for continuous frames, and are necessary to advance beyond L2 as the behaviour of moving traffic objects can only be correctly inferred with continuous frames. They are capable of making inferences holistically, rather than making inferences based on just key features (e.g. eyes, ears, mouth) like CNNs. This will lead to significant increases in the safety of AVs and AV applications through highly accurate hazard detection.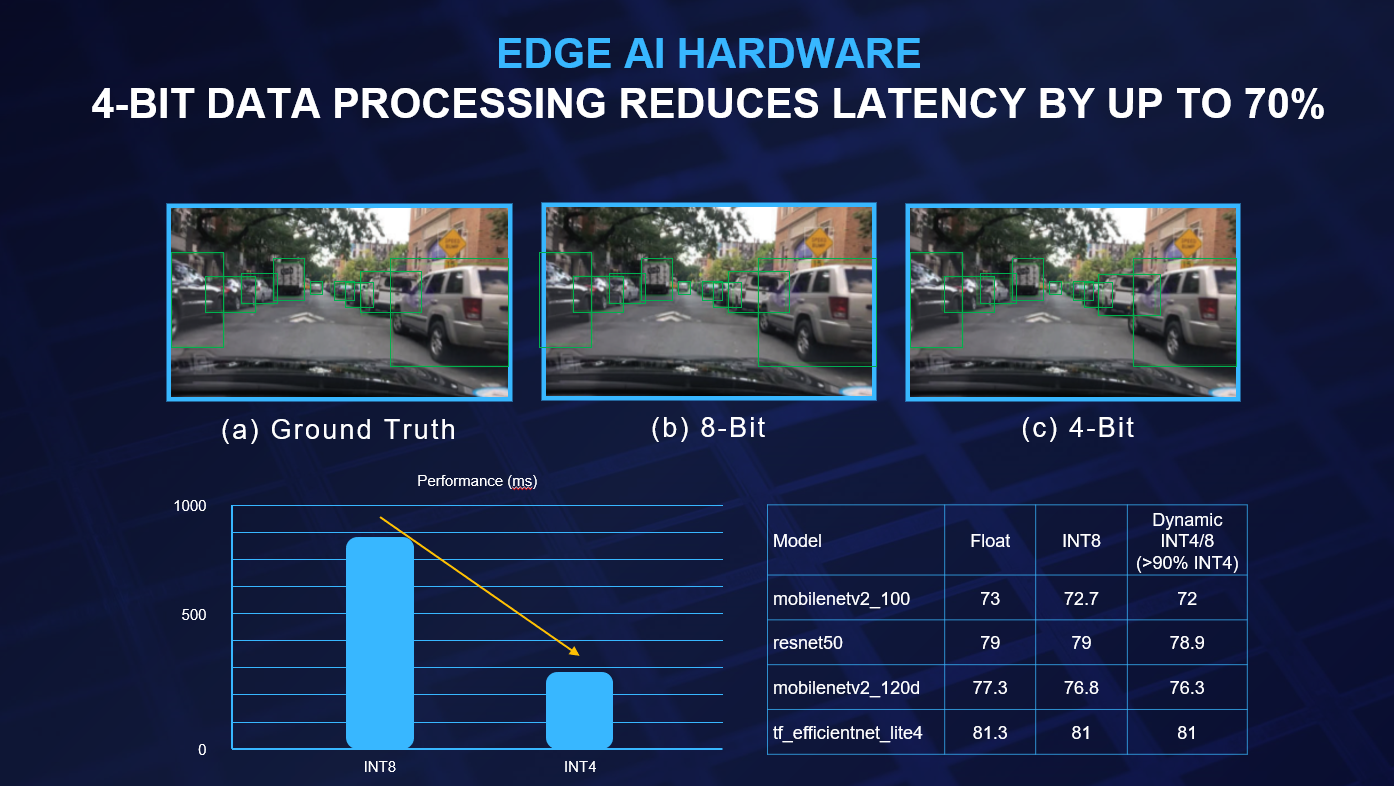 Albert Liu, Founder and CEO of Kneron, says: "KL530 is a major leap for low-power, high-efficiency edge AI. With KL520 and KL720 Kneron was already the market leader in energy-efficiency and performance, and KL530 only widens the gap. L1 and L2 applications will dominate the autonomous driving sector for the next decade, and Kneron is already serving this market through ADAS in Toyota vehicles. KL530 is the central part of that strategy."
KL530 is a key product for the advancement of L1 and L2 autonomous driving, enabling even safer autonomous vehicles through more capable Advanced Driving Assistance Systems (ADAS). The increased processing power for these applications from the KL530 NPU is bolstered by the addition of an ISP, which is the second major processor on the KL530 SoC. This ISP enables up to 1080p image processing in High Dynamic Range (HDR), AI tuning to optimize images captured for machine learning applications, and 3D recognition which allows blind spot detection, object/hazard recognition and classification, and distance measurement.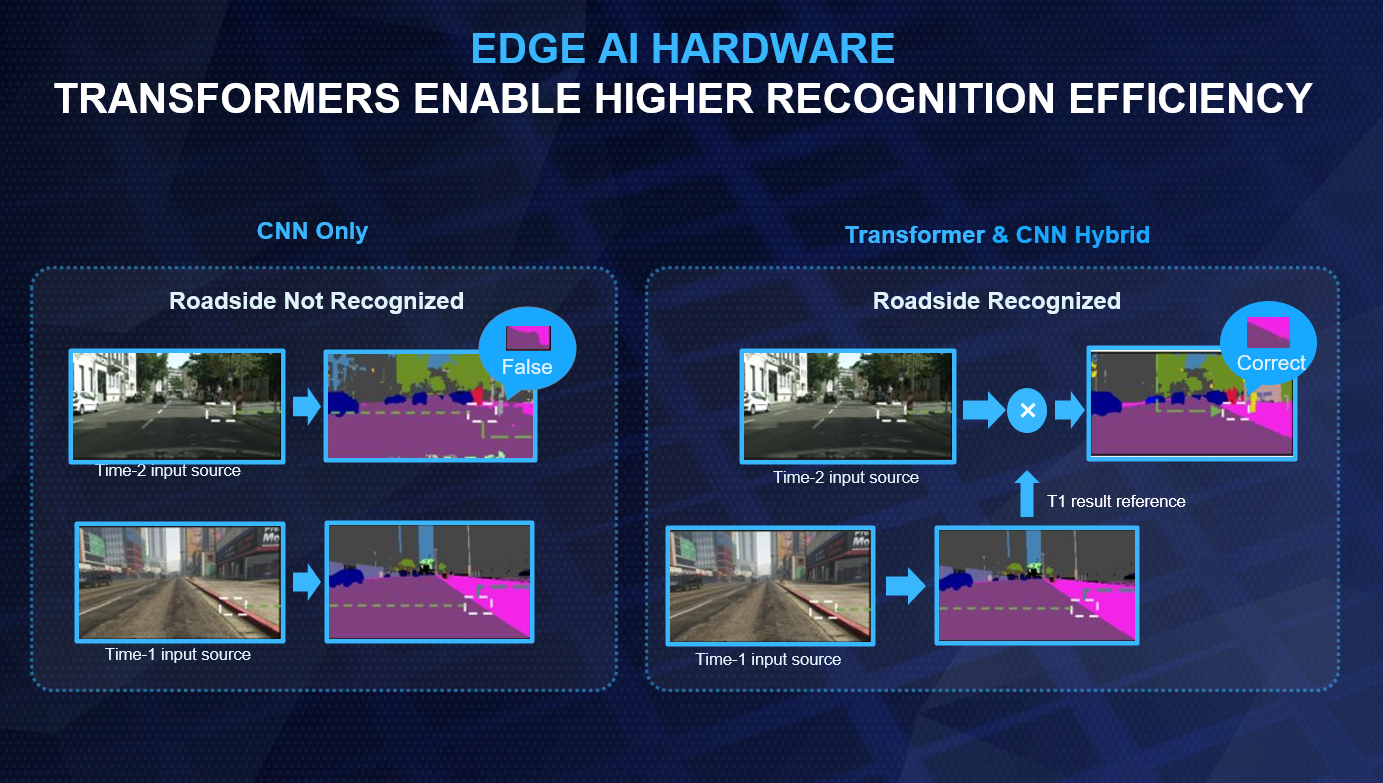 Crucially, KL530 will be released in two versions: the first is a version of the chip designed for aftermarket solutions, which will enable L0 vehicles to gain L1 or L2 autonomous driving capabilities. The second version has auto-grade qualification by design guarantee, which will be built directly into vehicles. It will be one of 2 or 3 auto grade chips designed by a startup, and will have the lowest energy consumption of any auto grade chip on the market.
KL530 will also play a key role in the future of the Artificial Intelligence of Things (AIoT). Together with Kneo, Kneron's private and secure edge AI network, devices can communicate together, support each other, and enhance their capabilities through the power of AI. Vehicles can communicate securely with roadside traffic management units, and AI-powered medical devices can co-operate while protecting patients' privacy. New AI applications can be downloaded from the Kneo app store to further enhance their capabilities.